Learning how to play an acoustic guitar is one of the best ways of keeping yourself calm. It is among those instruments that can be played almost anywhere – whether at a beach or a cafe!
Best Overall
Good Choice
Don't Miss
Also Consider
LR Baggs Para Acoustic D.I.
BBE Acoustimax Acoustic Instrument Preamp Pedal with Full Featured Sonic Maximizer
Radial Tonebone PZ-Pre Acoustic Preamp
Fishman Aura Spectrum DI Imaging Pedal with D.I.
But during live performances, you need to connect it to an amplifier for built-in pickups. While some guitars have an in-built preamp along with premium-quality pickups, others do not produce a good sound when coupled with an amplifier. That's why you must get a preamp so that you can improve its clean tone.
If you're here looking for the best acoustic guitar preamp, you're at the right place!
Top Rated Preamps for Acoustic Guitar
1. LR Baggs Para Acoustic DI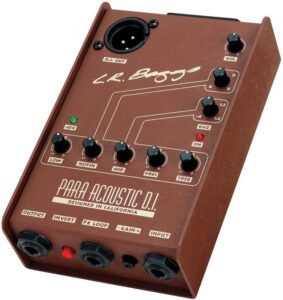 LR Baggs Para Acoustic DI is the prime choice of musicians all over the world. The reasons are its powerful features such as a chromatic tuner, a notch control and a tuning knob for eliminating frequencies, a feedback suppressor to ensure clear sounds, a volume boost button to add dynamics and intensity, and a presence control to direct the high-end frequencies by making it sound aggressive and warm.
This brand is among the best premier manufacturers of acoustic amplification solutions and has designed some of the most innovative pickups. It is a versatile choice of guitar-playing circles worldwide because the company stays true to its words – what you see in the advertisement is what you get!
This guitar preamp is for people who giggle and record constantly. It gives them a degree of control over their tone during live performances. But the associated con is that all these features spike the overall price of the item.
Features:
It has durable controls and input jacks.
Convertible gain for active as well as passive pickups.
It has a 5-band EQ along with a coordinating notch and midrange bands.
It includes an AC adapter or a 9-volt battery.
An LED status light to check battery status.
Phrase Inversion for best sound and feedback control.
2. BBE Acoustimax Sonic Maximizer/Preamp Pedal

BBE Maximizer is yet another widely popular preamp that is among the best creations by the brand so far. It has unique effects and sounds to enhance your live performance and transform the tone of your acoustic guitar to help you find your signature sound.
In simple words, it is much more than just a preamp as it is equipped with an Exciter to enhance tone harmonics and add color to an acoustic guitar with meh-sounding pickups.
This device has all the functionalities of a preamp and is designed for professional musicians looking to transform their acoustic guitar's overall tone and volume.
Features:
It has a tuner output and DI box with an XLR input.
It has a 12-Volt power supply.
It is outfitted with non-slip rubber feet.
It produces boutique-quality effect pedals.
It has a tunable notch filter to eliminate resonant spikes.
It has a 3-band active EQ with semi-parametric mid control.
It has a built-in XLR equipt direct box and sonic maximizer.
3. Behringer V-Tone Acoustic AD121

Behringer is a company known for catering to musicians on a budget. It provides affordable and excellent quality options. Although this model by the brand does not have an EQ, it can emulate the warmth of analog components and the natural response of a hybrid instrument. It provides super-high impedance to retain maximum signal integrity and dynamics.
Like any other preamp, it is also not capable of genuinely replicating an organic tone, but it does have a positive impact. You can increase or decrease its mic or tube emulation through the blend knob provided.
It has a three-band EQ which is not enough to let you fine-tune your tone, and it does help eliminate feedback when used rightly.
Features:
It has a 3-band built-in EQ for feedback control.
It has a stompbox with DI recording input.
Dual DI mode for direct recording output.
Authentic tube or microphone modeling circuitry.
Ground lift to reduce hum and noise in the signal.
It reduces feedback to a great extent.
V-tone to make the acoustic tone pickups more organic.
Signal boost to increase the intensity of live performances.
4. Radial Tonebone PZ-Pre Acoustic Preamp

Radial Tonebone preamp is famous among professional guitarists and performers. It is a 6-in-1 device that includes feedback reduction, DI, booster, and a preamp.
It allows you to join two instruments simultaneously without brawling about the signal. So, two guitarists can share the same EQ for creating the same tone for a fuller performance.
This device's effects loop lets you join it to other modulation effects by eliminating too much feedback. Its PZ-Pre Direct Box Preamp feature has a combination power booster and an effects loop that allows you to introduce a chorus effect and boost the signal for soloing with a foot stomp.
This device provides the musicians with tons of features and possibilities for creating a unique acoustic guitar tone, making it an ideal pick for live performances. However, it is vital to note that it is one of the most costly preamps out there.
Features:
It has a 6-in-1 gadget and a 15V power supply.
Piezo acoustic input signal boosters.
Perfect for studio and live performances.
It has a 1-gauge construction and a unique mix function.
Allows two guitars to play simultaneously.
3-year transferable warranty.
Dual slope low cut to eliminate resonance.
Separate tuner for on-the-fly tuning.
5. Fishman Aura Spectrum DI Preamp

Fishman produces some of the most powerful and innovative acoustic amplification solutions. Though the company is best known for its acoustic pickups, it has tried its hands in many other amplification technologies.
Its pedal is equipped with an EQ and amp modeling knobs to transform guitar tone into a more natural one despite the many devices that can compromise it, such as pickups and amps.
The brand has partnered with various manufacturers to produce guitars with an installed pickup and Helmholtz resonance to replicate a more natural tone.
Fishman is their ultimate pick for anyone looking for a reliable way to take their acoustic instruments to the next level. It is the best pick for any guitarist looking for a natural-sounding tone with fewer digital effects.
Features:
It has an installed pickup and Helmholtz resonance.
It gives a more organic and natural sound when amplified.
It has a tuner and an anti-feedback switch.
Includes a compressor to tighten up frequencies.
A set of presets suits every guitar playing style.
Buyer's Guide
An acoustic guitar preamp looks similar to an effects pedal that boosts low-level signals to provide better quality audio to the listeners. It cuts out unwanted frequencies for a more transparent tone and doubles up DI boxes, crucial for live performances.
It transforms the high impedance signal into low, letting you use longer leads without interference.
Generally, all preamps boost low signals, which is the primary reason people turn to them. Imagine the signal from your guitar is down; will it experience a distortion when you try giving it a volume?
If yes, you need a preamp as it gives you the option of increasing the volume of your signal to travel to the amp at a decent level. You can also play around with the tone controls.
But they are prone to getting feedback. That's why you need to consider some points before buying a particular acoustic guitar preamp. Let's take a look at the list below:
What You Play Through
During gigs, we plug into mixing desks with XLR inputs where the preamp acts like a DI box, changing the high impedance signal of your acoustic guitar into a low impedance signal.
It also converts the connection to an XLR which can go into a desk. When plugged in, it can shape the tone so that the mixing desk cannot because it has a broader range of instruments. Even so, guitars use an additional preamp for a higher level of controllability.
If you use a passive or piezo pickup, you will need the signal boost of a preamp to transmit your sound towards the amp.
Your Choice of Pickup
When choosing an acoustic guitar preamp, another key consideration is the type of pickup. There are four types of pickups available in acoustic guitars – piezo pickup, vibrational pickup, microphone-paired pickup, and magnetic pickup.
Piezo pickup is built-in in acoustic guitars for those who require both electric and acoustic tones in one instrument. They are reliable, easy to install, and relatively inexpensive. But they have low output, which is problematic for those requiring loud, punchy acoustic tones. The thin sound produced may stand out in some mixes but lacks the full sound of unamplified acoustic guitars.
Vibrational acoustic guitar pickup has a noticeably varied appearance from a typical one as it is either mounted on top of the instrument or under the bridge. It is known for picking up the vibration of both the strings and the body, resulting in a fuller sound. But the downside is that they require an EQ to adjust in a mix and are prone to feedback.
Microphone-paired pickup is among the most efficient options as it features a magnetic, under saddle, and contact pickup along with a microphone for diverse sound capture. The idea is to counteract the brightness of the rest of the pickups to produce varied tones.
Lastly, a magnetic pickup projects a magnetic field around the strings, converting the disruption into an electric signal.
Out of all these pickup options available, you have to pick the one that suits your style and vibe.
FAQs
Does an acoustic guitar need a preamp?
An acoustic guitar's most common pickup system produces a weak signal; it requires a preamp to boost it to line level. A 9V battery is the most commonly used power source in a preamp, but not all acoustic guitars need a battery.
It depends on how your guitar converts the energy you put into playing into a signal sent to the amp.
What is the use of a pickup on an acoustic guitar?
An acoustic guitar pickup takes your instrument's sound and converts it into a signal to amplify like an electric guitar. An acoustic guitar has a rich and dynamic tone where the resonance plays a significant role.
There are several acoustic guitar pickups, but the main types are – magnetic, piezo, and microphone.
Where is the pickup on an electric acoustic guitar?
The most common type of pickup on an electric acoustic guitar is the piezo, usually found under the bridge saddle. It picks up the vibrations of the strings and the top of the guitar at the saddle position.
Unlike a traditional pickup, compressed piezoelectric crystals detect vibrations and a preamp that translates them before the instrument's output.
Is a preamp the same as a pickup?
A pickup that is plugged directly into an amplifier is known as a passive pickup. In contrast, a pickup with a preamp is an active pickup.
Passive pickups sound good even without a preamp and come with the advantage of low maintenance and full tone. On the other hand, active pickups are louder and brighter.
Conclusion
Acoustic guitar preamps are similar to acoustic amps in the sense that they provide a consistent sound throughout. Consistency in tone is crucial when performing a gig because it can throw even the most experienced musicians out of their comfort zone.
But if you know how your guitar will sound and how you can make it sound a certain way, it will boost your confidence and eliminate any feedback.
Whether you're a beginner or a professional acoustic musician, an acoustic guitar preamp is one of the essential pieces of gear you should own.
You might not realize this now, but it will drastically change your tone for the best. If you're unsure which acoustic guitar preamp to buy, we will advise you to choose any of the above brands. All the recommendations are listed after considering several factors.
Check this also:
LR Baggs Venue DI Acoustic Guitar Preamp Bundle with Blucoil Slim 9V Power Supply AC Adapter, 10'...
OFFERS 3 FUNCTIONS IN 1 UNIT - The LR Baggs Venue DI combines a super low-noise transformer-coupled DI, equalizer with notch filter, and chromatic...
PROVIDES MAXIMUM NOISE ISOLATION - The transformer-coupled DI output enables you to connect directly into a mixing desk's mic input without worrying...
REDUCES UNWANTED FEEDBACK - The Venue DI uses LR Baggs' proprietary Garrett Null anti-feedback notch filter to cut out frequencies that cause ringing...
TUNES YOUR GUITAR ON-THE-FLY - The built-in chromatic tuner allows you tune up your acoustic guitar between songs. The onboard tuner features a...
INCLUDES - LR Baggs Venue DI Acoustic Guitar Preamp. Blucoil Power Supply with Slim AC/DC Adapter for 9 Volt DC 670mA with US Plug (Center Negative...
Tbest Guitar Preamp,Guitar Preamp Equalizer Digital Tuner,F 5T 5Band Equalizer Pickup,Digital Tuner...
【Guitar Pickup】The F-5T pickup is great for tuning on the move or on-stage. It features a note function for manual string tuning as well as an...
【After-sales Guarantee】Guitar Pick Up,If you have any questions about the product,or you encounter problems with your use, you can contact our...
【With Tuner Function For Tuning Easily】Equalizer Digital Tuner,The built-in tuner will be preferable over a clip-on tuner in noisy conditions. The...
【Easy To Read】5Band Pickup,LCD display, easy to read. Professional guitar and bass tuner Auto and manual tuning mode.The three LED lights will...
【Great Tone And Oickup Range】Guitar Accessories,The Complete Kit offers great tone and pickup range, and is made to be installed in the body of...
MOOER GE300 Lite Guitar Amp Modelling Multi Effects Processor, FX LOOP, Cab Sim, IR Loader, Tone...
108 preamp models captured from real-life amplifiers, 164 high-quality effects, and 43 IR-based factory speaker cab models. Support for up to 2048...
TONE CAPTURE allows you to sample and capture your real-life amplifier, stompbox, Guitar, or cabinet to create brand-new digital sound models....
Stereo outputs (1/4" and XLR) with independent signal chain routing. Flexibility to send different parts of your virtual rig to different devices....
Programmable footswitches with user selectable LED colors and assignable functions allowing complete user customization of the control scheme....
High-precision, adjustable TUNER, 30-second stereo loop station, Supports up to two external expression pedals.
L.R. Baggs Align Equalizer Acoustic Guitar Effects Pedal
6-band EQ for meticulous tone sculpting
Variable high-pass filter for best sound and feedback control
Phase inversion for both passive and active pickups
3 position gain switch for easy level control
Garret Null notch filter tames resonant feedback
NUX Optima Air Dual-Switch Acoustic Guitar Simulator with a Preamp,IR Loader, Capturing Mode
It simulates the acoustic guitar profiles with the best-optimized sound depending on your guitar and pickup type.
IR loader combined with a preamp which is equipped with 3-band EQ and Gain controls.
A unique profile capture function, you can create your own acoustic guitar profile (IR file) by capturing your favorite acoustic guitar's sound.
XLR DI output for direct line/mixer connection, headphones output for silent play and auxiliary input to connect a music player to play along.
You can load 3rd party IRs and edit preset names through editor software. Update the firmware from NUX official Website after you get this pedal.