As a guitarist, I know you will be seeking ways to maximize your experience on the guitar. Not all strings will help you have an excellent experience while playing; you need to be selective. The fact that there are thousands of products in the market that you can pick from can really be confusing.
Best Choice
Good Choice
Don't Miss
Also Consider
GHS Strings DYM Guitar Boomers, Nickel-Plated Electric Guitar Strings, Wound G, Medium (.013-.056)
Elixir Strings Electric Guitar Strings w POLYWEB Coating, Light (.010-.046)
Ernie Ball Regular Slinky Nickel Wound Electric Guitar Strings 3 Pack - 10-46 Gauge
Fender Original 150 Electric Guitar Strings, Pure Nickel Wound, Ball End, 150R .010-.046
Best Choice
GHS Strings DYM Guitar Boomers, Nickel-Plated Electric Guitar Strings, Wound G, Medium (.013-.056)
Also Consider
Fender Original 150 Electric Guitar Strings, Pure Nickel Wound, Ball End, 150R .010-.046
Have you ever seen a metal player who looks skillful, but plays so bad on his guitar? In most cases, it boils down to the type of string his guitar features. Guitar strings can make or mar every play session. No manufacturer will tell you their product is of low quality.
Hence, this article will deliver five of the best electric guitar strings for metal you can pick from. They tick the mark for all that you need in your guitar strings.
Criteria for Selecting Best Electric Guitar Strings for Metal
Here are essential points you must think about before selecting an electric guitar string for metal;
Gauge: this is, in fact, one of the most important things you must think about while choosing a string for your guitar. Many guitarists often prefer dedicated metal strings, while many prefer medium or heavy gauge (.011-.050 for medium, .012-. 054 for heavy)
Materials: if a guitar string will last long, the material plays a significant part. It affects both the feel and tone produced. You should go for pure nickel, nickel-plated steel, or stainless steel.
Coating: you should also be concerned about the coating of your string. It adds to the durability, aesthetics, and playability of your guitar. Some coating prevents, moisture, rust, and dust from affecting your strings,
Manufacturer: while some are professional at constructing strings, others are there for the money. If you want to enjoy the string you are picking, you must be sure that the manufacturer is reputable, and produces the best strings.
Read: Best Clean Guitar Amp for Pedals
Best Electric Guitar Strings for Metal
1. GHS Strings DYM Guitar Boomers, Nickel-Plated Electric Guitar Strings, Wound G, Medium (.013-.056)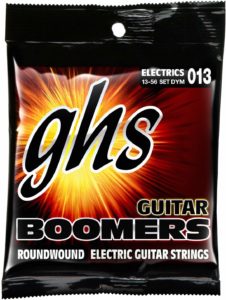 Every metal player should enjoy using this string. Several things make the electric guitar string an excellent option for metal players; for one, it features an air-tight fresh Nitro Pack design straight from the factory.
This nickel-plated string features a Roundwound design, and it delivers brilliant tones that are powerful. It features medium gauge which ranges from .013, .017, .0.26, .036, .044, and .056. This string is churned out of the very best and high-quality materials that help add quality to this product.
2. Elixir Strings Electric Guitar Strings

This electric guitar string is constructed with nickel-plated steel wrap wire, this makes it durable and perfect for playing metal music. It is also designed to play robust and warm tones, just the way you want it to sound. The string features the original POLYWEB Coating; this helps provide a slick and soft feel, which makes playing on this guitar easier.
The coating technology apart from the feel serves as protection for the guitar, it helps protect it against corrosion, rust, and help extend the lifespan of the string. This light gauge string comes in different gauge which includes; .010, .013, .017, 0.26, .036, and .046.
3. Elixir Strings 80/20 Bronze Acoustic Guitar Strings

This is another high-quality guitar string that is perfect for playing metal and related genres. The string features an ultra-thin NANOWEB coating, which helps deliver traditional texture and an uncoated feel. This coating technology also helps extend the lifespan of the string irrespective of the intensity of use; it also helps prevent rusting and corrosion. This guitar strong has an expensive vibrant presence and perfectly plays crisp and bright tones.
The acoustic guitar string is constructed with 80/20 bronze wrap wire. (80% of copper, and 20% zinc). This light gauge string includes; .012, .016, .024, .032, .042, and .053.
4. Ernie Ball Regular Slinky Nickel Wound Sets

This pack contains three individual strings, which are all constructed with high-quality material that makes them perfect for playing all genres, especially metal. This string has been used by a legend guitarist which signals at the authenticity of the string. The guitar string comes in an element shield packaging, which helps prolong the string lifespan and protect the string, helping it retain its freshness for as long as possible.
This string is made from nickel wire that is wrapped around a hex-shaped steel core wire. The plain strings are made of high-quality and tempered tin plated carbon steel, which helps the string deliver a balanced tone. Features gauges which include; 0.10, .013, .017, .026, .036, and .046.
5. Fender 150R Pure Nickel Electric Guitar Strings, Regular

This is another perfect string for your electric guitar that will help you deliver the right and high-quality tone you crave for. This string has been tested and found to feature designs that help it produce classic, round, and full tones. It features the highest quality wire available in the market, and a state of art design that helps it deliver vintage tone, consistency, and modern-day feel.
To keep the string factory fresh, all strings are optimized with the latest manufacturing technology, which helps them retain their fresh until you lay your hands on them. String gauge includes; 0.10, .013, .017, .026, .036, and .046.
Read: Best Electric Guitar Strings for Blues
FAQ
What type of strings is best suited for metal?
Playing heavy metal typically requires a more durable set of strings. It is best to go for the thicker gauge to get the richest and heaviest sound. These are great in drop tunings and provide you with a fuller tone and more sustainable sound.
Which material is best for guitar strings for metal?
Since metal music offers rich and heavy sound, it is recommended that you get strings that are made of steel and nickel. These will produce the most stable sound and durability required to play heavy metal music.
How often should I replace strings for metal?
This largely depends on how often do you play and the conditions you play in. If you are playing a lot of live gigs, you are bound to get sweaty and therefore reduce the string's lifespan. Metal music is intense, and strings tend to take quite a lot of beating, which also affects the string's durability as well. It is best to replace them every three months or after roughly 100 hours of use.
Which string gauge is the best option for playing heavy metal?
Metal requires a thicker gauge for the fullest tone and rich, heavy sound. You should buy strings that are roughly .010 but going for thicker ones is likely a better option.
Should I get coated strings for metal?
They are certainly a great option, especially if you play a lot of live gigs. The biggest benefit of coated strings is that they are corrosion resistant. You are bound to sweat a lot during live performances, and rust resistance is a great option to have in these situations.
Which strings for metal should I purchase?
All strings we have listed above are top-notch in quality for heavy metal guitarists. If you are uncertain which set you should pick, we recommend the Elixir Electric Guitar Strings. They are nickel-plated and extremely durable, which is of high importance for metal.
Conclusion
In this review so far, we have explored the important criteria that will help you select the best electric guitar strings for metal. We have also gone ahead to deliver 5 of the very best you can lay your hands on.
The Ernie Ball Regular Slinky Nickel Wound Sets is the most expensive of all listed product, and it embodies a whole lot of beauty, the GHS Strings DYM Guitar Boomers is another top quality that you can also explore being the cheapest. All products listed in this article are designed to make you play with ease and enjoy every play session.
Sale
DR Strings Electric Guitar Strings, Dimebag Darrell Signature, Treated Nickel-Plated, 10-52
High-voltage Dime Bag Darrell - nickel plated electric Guitar strings: Medium to heavy 10-52
Signature strings played by the late metal icon Dime Bag Darrell
Feature a hexagonal core wire and nickel-plated steel wrap wire treated with string life, a molecular bonding liquid polymer that protects them from...
As Darrell used to say, "they're great for everything, from big OL' string bends, to huge whammy bar dives, perfect for blood curdling harmonic...
10, 13, 17, 30, 44, 52
Sale
D'Addario Guitar Strings - NYXL Electric Guitar Strings - NYXL1046-3P - Unrivaled Strength, Tuning...
PREMIUM GUITAR STRING - NYXLs are our premium uncoated electric strings, delivering unrivaled strength and tuning stability, plus enhanced mid-range.
CUT THROUGH THE MIX – The premium nickel-plated steel wrap wire used for NYXLs provides accentuated frequency response in the 1 - 3.5 kHz range, so...
STRONGER STRING - Fusion Twist technology assures NYXL electric guitar strings stay in tune 131% better than standard strings, while the NY Steel core...
EARN REWARD POINTS - NYXL strings come with a code which you can register to earn Players Circle points.
MADE IN THE USA – NYXL electric guitar strings are made in the USA—drawn to our exacting specifications at our New York production facility.
Sale
Fender Super 250 Electric Guitar Strings, Nickel Plated Steel, Ball End, 250L .009-.042
Our #1 selling guitar strings, Super 250s are included on all Fender electric guitars when leaving the factory
Nickel-plated steel combines the high output and dynamic sound of steel with the smooth feel of nickel
Hex core construction creates more brightness along with a faster pick attack
Ball-end design with classic Fender colors help make string changes a breeze
Made in the U.S.A.
Bog Street ELECTRIX Nickel Hex-Wound Medium (11/48) Electric Guitar Strings, 6 String Set
ELECTRIC GUITAR STRINGS – ELECTRIX uncoated strings are expertly crafted in the USA to provide bright and exceptional tonal quality and a high...
UNCOATED NATURAL FOR PURE TONE – These strings feature a high-carbon steel hex-core pulled to optimal tension and wound with American-sourced...
OPTIONS – ELECTRIX guitar strings for 6 string electric guitar are available in UltraLight (9/42), Light Mix (9/46), Bright Light (10/46), Coated...
Backed by Bog Street 100% Satisfaction Guarantee