You may need to get the best cheap microphone for rapping, especially as a starter. Rap music requires the best microphones that will produce clarity of sound. The truth is your bars, rhythms, and flows will be heard as noise-making with poor-quality microphones. If you are concerned about the type of mic to use as a rapper, then you are in the right place.
Best Choice
Good Choice
ZaxSound SF666PRO Professional Cardioid Condenser Microphone and Tripod Stand for PC, Laptop,...
MXL 770 Multipurpose Large Diaphragm Condenser Microphone
Best Choice
ZaxSound SF666PRO Professional Cardioid Condenser Microphone and Tripod Stand for PC, Laptop,...
Good Choice
MXL 770 Multipurpose Large Diaphragm Condenser Microphone
The first essential for a rapper when on stage is a microphone that can be trusted. So how do you get to find the microphone that captures every word you speak, keeping in mind that rap songs are best delivered with microphones that come with unmatched clarity?
Picking the right mic might be tough, but choosing the best cheap microphone for rapping is another tough task for many. Worry less as we will be considering 5 of the best cheap microphones for rapping you can make use of.
Read: Best In-Ear Monitors for Singers
Criteria for Selecting Best Cheap Microphone for Rapping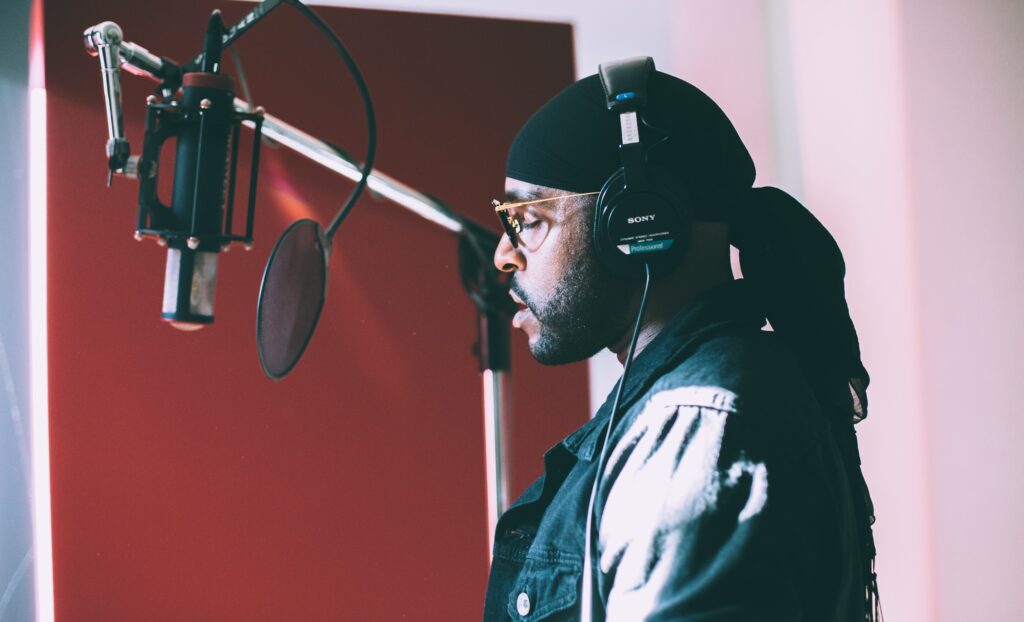 The following criteria should come in handy if you are in need of cheap microphones as a rapper. Your communication medium will be clear and undisturbed when you consider things like;
Polar pattern: this is the shape of the mic's field of sensitivity; this is the direction where the mic accepts and ignore incoming sounds. You can select either an omnidirectional mic, unidirectional mic, or a bi-directional mic. Unidirectional mic is the most common, and they have three polar patterns, cardioid, super-cardioid, and hyper-cardioid.
Frequency response: rapping requires microphones with a high-frequency response. It is measured in Hertz and refers to the range of frequencies. An excellent choice will be picking a microphone with a frequency response range of about 80 Hz to 15KHz.
Condenser or Dynamic: you need to decide if you will be selecting condenser or dynamic microphones. Condensers are best for studio recording; they deliver rich and high-quality sounds. They are sensitive and produce clear vocals. Dynamic microphones, on the other hand, are durable, and they produce less accurate sounds.
Accessories: the accessories that are attached to your mic are also essential. They include shock mount, pop filter, carry case, etc.
Best Cheap Microphone for Rapping
1. TONOR Professional Studio Condenser Microphone

You rap better when you use a good microphone. This microphone is offered at a competitive price, and it helps make each studio session a better one. It is a cardioid polar pattern microphone that reduces picking up sounds from the background and improves the isolation of desired sounds. The 48V phantom power microphone requires an external source of power.
The microphone features a 3.5 meters XLR cable and comes with a metal shock mount, pop filter, and adjustable stand. The microphone is very easy to set up and makes performing for rapper easier. It has an overall weight of 3.25 pounds.
2. ZaxSound Professional Cardioid Condenser Microphone

This is a budget cardioid microphone that is highly sensitive with a sensitivity rating of -34db picking sound from 12 inches away. It features a cardioid pickup pattern, it picks up sounds from the front while getting rid of noise from sides and back. The design of the microphone is unique, it is a perfect grip plug and play microphone with 3.5 mm stereo audio jack plug.
It requires no software for installation, and it is compatible with Windows 10, 8.1, 8, and older versions. It is also compatible with Mac Pc, Notebooks, iPhones, Android smartphones, and overall provides clear digital stereo sound.
Read: Best Centre Channel Speaker for Dialogue
3. MXL Mics 770 Cardioid Condenser Microphone

This is another highly affordable multi-purpose condenser microphone perfect for rapping. It is also ideal for vocals, piano, stringed instruments, and percussions. This microphone has a balanced bass response with high-end clarity. It also has a low frequency, which helps reduce interference of background noise and unwanted rumbles. The microphone is designed for exceptional sound quality.
The microphone has a capsule size of 22mm/.87 inches. It has a frequency range of 30Hz-20KHz. It features a cardioid polar pattern and gold-sputtered 6-micron diaphragm. The microphone has an overall weight of 1lbs and features a metal finish with black grill.
4. ZINGYOU Condenser Microphone

This microphone is another perfect one for rappers. This microphone is equipped with Zingyou BM-800 microphone pop filter, shock mount, anti-wind foam, arm stand, power cable, sound card, etc. the microphone is very sensitive; it features a thin material diaphragm or capsule which efficiently vibrates and deliver received sound to the output when affected by sound waves.
The resulting sound has enough detail and accuracy. It is perfect both for vocals and for instruments. The microphone also features a high signal to noise ratio (SNR) which means, you have less distortion while recording. The 3-layer protection system also helps prevent unwanted noise while recording.
5. Rockville RCM03 Pro Studio Recording Condenser Microphone

This studio microphone is perfect for rappers, it comes with shock mount and mic shield. It features an internally polarise condenser cardioid design polar pattern. Also, it has a large diaphragm which helps deliver smooth, natural sound and low noise. It has a power requirement of 48V DC phantom power or computer sound card.
It captures vocals, acoustics, and amplified instruments. This microphone is built for quality both in and out. It made with aluminium, which makes it rugged, tough, and perfect for use in any environment. Perfect for rappers, and offered at highly discounted prices.
FAQ
What is the difference between a rapping microphone and the regular one?
Rapping microphones will eliminate background noise with more efficiency than regular ones. Since rapping involves a lot of physical movement, it creates a lot of clatter around the mic head, and microphones that are specialized for rapping will help you eliminate this type of noise and produce a higher quality of sound.
Which microphone is suitable for rapping?
It is important to pick a microphone that is easy to handle and creates very little to no background noise. The accent should always be on clarity, so your vocals can be heard loud and clear in the final production.
Are USB microphones good for rapping?
It depends on the microphone type. There are various options among USB mics, and not all are suitable for rapping. Look closely to specs and reviews to determine if the microphone can produce clear, quality rapping vocal sound. Modern USB mics are more adaptable and can be used for rapping, especially since they have a built-in preamp and headphone jack. These features will get rid of sound delay, which will help you to record smoothly.
What to look for in a rapping microphone?
Since rapping is a type of storytelling, it is essential that the microphone you use picks up every word you rap clearly and loudly. The sound should be rounded, and every verse should be understandable to the listener. Look for the microphone that emphasizes clear and rich vocals and has a sturdy, durable construction.
Which rapping microphone should I purchase?
We have listed some of the best options you can go for, especially if your budget is tight. Although these are cheaper solutions, it does not mean they lack quality. We recommend you TONOR Professional Studio Condenser Microphone. It is a great mic for rapping and eliminates various background noises. It is affordable, compact, and comes with an adjustable stand.
Conclusion
If you are a rapper, and you have gone through all the information delivered here in this review, you should be preparing to hit the market to make the next studio session a big one. All microphones reviewed in this section are not expensive. They are the best cheap microphone for rapping.
The ZaxSound Professional Cardioid Condenser Microphone is the most affordable on the list, while the Rockville RCM03 Pro Studio Recording Condenser Microphone is the most expensive. Either for your personal studio use or for general use, these microphones are built to deliver. With one of these in your possession, your voice will be projected appropriately, and all will pick your message clearly.