Ensuring that you get the best microphones under $100 has become a necessity in today's world if a content creator wants to do any audio-related projects. From streaming, podcasting to making video content, microphones are used in a number of places.
Best Pick
Good Choice
Don't Miss
Also Consider
FIFINE USB Desktop PC Microphone with Pop Filter for Computer and Mac, Studio Condenser Mic with...
TONOR USB Microphone, Cardioid Condenser Computer PC Mic with Tripod Stand, Pop Filter, Shock Mount...
PowerDeWise Professional Grade Lavalier Clip On Microphone - Lav Mic for Camera Phone iPhone GoPro...
Upgraded USB Microphone for Computer, Mic for Gaming, Podcast, Live Streaming, YouTube on PC, Mic...
Best Pick
FIFINE USB Desktop PC Microphone with Pop Filter for Computer and Mac, Studio Condenser Mic with...
Good Choice
TONOR USB Microphone, Cardioid Condenser Computer PC Mic with Tripod Stand, Pop Filter, Shock Mount...
Don't Miss
PowerDeWise Professional Grade Lavalier Clip On Microphone - Lav Mic for Camera Phone iPhone GoPro...
Also Consider
Upgraded USB Microphone for Computer, Mic for Gaming, Podcast, Live Streaming, YouTube on PC, Mic...
If you, too, are one such content creator and are looking for the best microphone to purchase that is under the budget of 100$, you have come to the right place. In this article, we will be listing eight of the best microphones under 100$ that we strongly recommend you to buy in 2023.
 Best Cheap Microphones – Top Picks
1. FIFINE USB Microphone K683A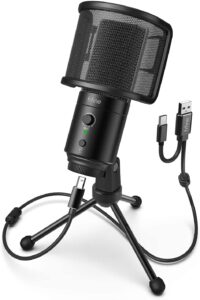 Starting off our list is a computer microphone that not only tops the bestseller list on Amazon but is also their top choice for computer microphones. That microphone is none other than the Fifine USB Microphone K638A, which is considered to be one of the best microphones out there, no matter what purpose you use it for.
This USB Microphone features a cardioid condenser mic that delivers absolutely crystal clear audio without any harsh background or external noise. The microphone is known to replicate your voice exactly the way it is and is extremely easy to use with a simple plug-and-play mechanism.
The best thing about this microphone is the multiple device support it has with connectors for almost all devices out there except micro-USB phones and Xbox.
The microphone has a variety of different controls that you can use while you are recording and really come in handy when you need one specific feature immediately at hand, such as the instant mute button or gain knob.
It also comes with a pop filter and a tripod, so you don't need to purchase extra accessories when buying the microphone, making it truly one of the best value for money options under the 100$ segment.
Features:
Plug and play for almost every type of digital device out there.
Excellent voice replication and recording.
Minimal background noise capture.
Tons of extra accessories.
USB-A and USB-C cable dual support.
Dedicated controls for easy sound access.
2. TONOR Computer Microphone TC-30

The TONOR Computer Microphone TC-30 has an extremely unique look to it that makes your recording experience extremely enjoyable. The TONOR TC-30 is a microphone that has not only amazing looks and style in its build but also the performance to match its aesthetics.
The TONOR TC-30 features a cardioid mic that is able to capture your voice exactly the way it is without letting external background noise hamper it.
The microphone is extremely easy to set up and can be used out of the box with a few tweaks and adjustments. The microphone features a USB port that lets you connect to your computer, laptop, and any digital device that has a USB port. The best thing about the mic is its anti-shock mount that can absorb all types of vibrations and retain crystal clear audio quality in your voice.
Features:
Unique and stylish design.
Cardioid sensor mic that captures your voice perfectly.
Comes with a pop filter and tripod stand.
Easy plug and play with all digital USB devices.
Anti-shock vibration mount that inhibits all forms of vibrations.
3. Slint Lapel Microphone 2 Pack 11.2-128

If you are looking for a value for money microphone for interviews or for video-recording with another person, then the Slint Lapel Microphone is the perfect choice for you. The Slint Lapel microphone pack comes with two microphones which are ideal for recording audio with another person.
The pack features two condensed lavalier microphones that have amazing sound recording quality and can record your voice adequately well. However, the best thing about these microphones is that they come with all the accessorial equipment you'd need for setting up the microphone to work on multiple devices.
These accessories are a Y connector, satchel bag, extension cords, and even wind muffs to decrease sound distortion outside.
Features:
Amazing value for money.
Two microphones pack, perfect for interviews and content creation.
Compatibility with every device under the sun.
Microphones can be attached anywhere and even hidden out of sight.
Tons of free accessories.
Omnidirectional condenser microphone.
4. PowerDeWise Professional Lavalier Microphone

While Lavalier microphones are great and are the perfect option for you if you record content outside, most lavalier microphones don't have the professional quality that you need for recording your voice and content. This is where the professional-grade lavalier lapel microphone comes in.
This microphone is capable of recording your voice in a clear and precise manner without letting background noise hamper your recording. It is compatible with almost every device out there though some devices need a separate adapter for connection.
The best thing about this microphone is that it comes with an extension cord that allows the microphone to record your voice even if you are far away from your camera or device.
Features:
Professional grade lavalier microphone that gives premium audio quality.
Compatibility with almost all devices.
It comes with an extension cord that allows you to record over larger distances.
Direct plug and record with your microphone right away.
Easy background noise cancellation with wind mufflers.
5. TrophyRak Upgraded USB Micropho#Cne TR-PRO-057

If you are looking for a full microphone desk setup for your streaming or gaming needs, the TrophyRak Upgraded TR-PRO-057 might be the perfect option for you. The microphone features the latest audio technologies that enhance your recording experience to the next level, such as sound field surround and noise reduction chips.
While the microphone setup may look like it would take a lot of time to configure and properly install, it couldn't be further from the truth because the microphone can be used as soon as it is plugged into your machine. The microphone features top-notch features such as wide frequency response and the perfect combination of tones which leads to a premium voice recording quality.
The microphone is designed to be extremely user-friendly. The package itself comes with a variety of accessories such as a scissor stand, pop filter, and amount clamp that helps you properly install the microphone on your desk.
Features:
The full microphone set with the latest technology.
Designed to plan and record instantaneously.
Intuitive UI features for better ease of access.
Amazing sound clarity and quality.
Top-notch accessories for free.
Buyers' Guide
Type of microphone
Microphones come in two major types – condenser and dynamic microphones. A condenser microphone uses capacitor technology to convert the sound waves in the air into an electric audio signal that can be used at your disposal.
Due to their newer technology, condenser microphones capture much larger vocal and frequency ranges than dynamic microphones. However, they are also relatively more expensive than dynamic microphones because of this.
Dynamic microphones operate on a much older and simpler technology of using a magnetic coil to convert sound waves into electrical signals that can be outputted to speakers and amplifiers. Dynamic microphones are much cheaper than their condenser counterparts and are also significantly more durable.
Also, they are much more capable of capturing louder vocals and sounds than condenser microphones which is why professional singers use them extensively.
Directionality
Depending on your situation, you might need a microphone that captures sounds and audio from all sides, while in other cases, you might need a microphone that only captures audio from one side or source. This aspect of your microphone is decided by its directionality which dictates where the microphone will pick up your sounds from.
There are various directionalities in microphones. The most popular and used amongst them is the cardioid directionality which only picks up audio from its front side and is used for capturing your voice and music in a much better manner. Supercardioid is the upgraded version of cardioid microphones and picks up sounds from one source and cancels all background noise around.
Bi-directional microphones are microphones that capture sounds from both the front and the back of a microphone. These microphones are only used for interviews and podcasts and are generally much more expensive than their cardioid counterparts.
Omnidirectional microphones are the perfect choice if you want to capture everyone's voice in a group setting instead of eliminating it as background noise. They are mostly used in outside environments and group performances in studios. However, using them individually does not make sense because of how much background audio they pick up.
Frequency response
The frequency response of a microphone tells us how wide the range of frequencies a microphone can capture. Most microphones should be able to capture a standard range of 20Hz to 20Khz easily. Microphones are designed to be more customized for one specific frequency range.
Dynamic microphones perform better if the audio is solely based on the lower frequency ranges. In contrast, condenser microphones perform better if the audio is varied on all frequency ranges, such as vocals.
Impedance
Impedance is a factor that only comes into question if you are using long cables for transferring your recorded audio. The lower your impedance is, the better your wires are able to keep their original audio quality. In case a microphone has a particularly high impedance, take that as a sign that the microphone is not made from quality components.
If you will be using a lot of microphone extension wires with your microphone setup, then it is necessary that your microphone has the lowest impedance possible below 600 Ohms.
Maximum sound pressure level
The maximum sound pressure level tells us how much volume a microphone can handle while recording until it starts getting distorted. While a maximum sound pressure level won't matter in most normal scenarios as microphones are able to capture most loud sounds, if you are looking to record a particularly loud event, we recommend that you get a microphone with a high maximum sound pressure level.
Attenuation switch
An attenuation switch is a switch on your microphone that controls the gain and control of the microphone and reduces the output level of the mic. This can make the microphone capture much smaller details and voice ranges than before and allow you to record audio in quiet environments.
This is perfect for studio artists and podcast creators who necessarily need a quiet environment to work in with their audio content. Having an attenuation switch at hand can be the difference between saving tons of time and effort that could have otherwise gone in manually adjusting the gain and control settings from your device.
FAQs
Which is better – condenser or dynamic mic?
Both microphones have their own set of advantages and disadvantages. Dynamic microphones are better suited for live environments where you need to capture strong and loud sounds. In contrast, condenser mics are better suited for environments that need to capture a wider range of normal sounds and frequencies in a controlled environment, such as a room or a studio.
What microphone do professional singers use?
When they are live on a stage, professional singers use the best top-end dynamic microphones. In studios, however, they use top-of-the-line condenser microphones that bring out the entire depth and vocal range of their voice more easily.
Is a condenser mic better for vocals?
Unless the vocals are extremely strong and loud, condenser microphones are much better than dynamic microphones for capturing vocals.
What is the difference between cardioid and condenser microphones?
A condenser is a type of microphone, just like a dynamic microphone. Cardioid is a feature of the microphones, like omnidirectional or bidirectional, that dictates what the input range of the microphone is. Thus, cardioid microphones are always either condenser microphones or dynamic microphones, but condenser microphones do not necessarily need to be cardioid.
Conclusion
Choosing the best microphones under $100 is a tough choice, especially when you need to consider so many different factors. We hope this article helped you out in choosing the perfect microphone for your content creation needs and gave you valuable insights into what to look for when choosing a microphone for yourself.
Take a look at the following products also: