Are you in the market for your first ever Djembe and you seem lost or a little overwhelmed with the array of drums you are seeing in the market? This is always going to be a problem for a beginner which is why we have come up with an article that will make it easy for you to choose the best Djembe for beginners in the market.
Editor's Pick
Good Choice
Don't Miss
Also Consider
Remo DJ-0014-05 Mondo Djembe Drum - Earth, 14"
Meinl Percussion Djembe Hand Drum Circle Instrument, Carved Mahogany Headliner Series — NOT Made...
Meinl Percussion Djembe with Mahogany Wood - NOT Made in CHINA - 10-Inch Medium Size Rope Tuned...
20" Tall (M6) Deep Carved Djembe Bongo Drum with Free Cover
Editor's Pick
Remo DJ-0014-05 Mondo Djembe Drum - Earth, 14"
Good Choice
Meinl Percussion Djembe Hand Drum Circle Instrument, Carved Mahogany Headliner Series — NOT Made...
Don't Miss
Meinl Percussion Djembe with Mahogany Wood - NOT Made in CHINA - 10-Inch Medium Size Rope Tuned...
Also Consider
20" Tall (M6) Deep Carved Djembe Bongo Drum with Free Cover
This article will simplify the process for you by highlighting the things to consider before buying your Djembe product.
We have also come up with the five best Djembe for beginners. By going through this review article, we are hoping that you find great joy in the market when shopping for the best Djembe.
Must Read: Trombone Mouthpiece For High Notes
Criteria For Choosing Djembe Drum For Beginners
There are different brands of Djembe drums in the market and this can readily overwhelm you as the buyer because you don't know which to choose or what you are to consider before going on to buy your Djembe drums. Follow the listed criteria below, and you will find it easy to choose the best Djembe for beginners in the market.
Quality: Quality may be a relative term to different individuals but we are only going to consider the typical and generic quality listings for you to consider. Before you go on to purchase Djembe drums you have to know the type of quality you want.
The quality of the craftsmanship, wood, workmanship excellence, ropes, rings, drumhead skin, tonewood, beauty and others are all to be noted in terms of quality when buying your Djembe drums. Unfortunately, the African Djembe drums do not have any international standards which is why we have come up with the best standards to ease your buying process.  
Music Type: The Djembe drums capability is divided into all-round Djembe, Ensemble Djembe, solo Djembe and Trance Djembe. All this comes with different sound characters and you need to know which will best work for your music style before you go ahead to purchase. You should never neglect this criterion for the best output of your music. You can also tune your Djembe drum to the best of your musical style.  
Sound Type: Before buying your Djembe drum pay attention to the type of sound you want to make it easier for you to choose the Djembe that matches your preferred sound.
Djembe Design: Be sure to go for the Djembe drum design that you immediately relate with in terms of features, quality, beauty and class. When you own a beautiful instrument it will readily attract people to you which will increase your motivation for playing and also entertaining your audience with good music. Pay attention to the shape, the timber, the carving, color, ropes, rings and the drumhead paintings to list a few.
Price: Oftentimes, the price can dictate the quality of your product which is why you are advised to set a realistic budget that will be able to buy you the quality of the Djembe drum you want. Some products come with a high price and yet not with outstanding qualities which is why you should greatly go through the product review before investing in the product.
Best Djembe For Beginners In 2023
1. Remo DJ-0014-05 Mondo Djembe Drum

This brand of Djembe drum is very well known all over the globe, this is because they produce attractive designs, superb outlook, and ease of play, durability and great quality. This particular product is super with the sound it gives and you will love the efficiency of the performance.
The Remo Djembe comes in a 10 x 10 x 10 inches and the weight is about 10 pounds and its design makes it suitable for any type of drumming style.
This is great for beginners due to the ease that comes with playing this drum. The quality of this drum is top-notch as it gives a full range of rich and warm bass plus you can tune it without limit. Finally, the fascinating part is it comes with a key tuning feature instead of the typical rope tuning.
Must Read: Headset Microphone For Church
2. Meinl Percussion HDJ4-L Nile Series Headliner Rope Tuned Djembe

This is a masterpiece Djembe drum from Meinl Percussion and it comes with great sound quality and the design is absolutely enchanting.
This product is made to have great durability and solid construction. Additionally, its size is 12 x 12 x 24 inches which makes it suitable for adult players, it is lightweight and you can also choose to buy the medium size of this product.
Due to the large head size of this drum, you will enjoy multiple beats ranging from low to high. You can tune it to your taste with the tuning rope feature. Finally, beginners will enjoy the easy play feature.
3. Meinl Percussion HDJ3-M Black River Series Headliner Rope Tuned Djembe

This brand is highly reputable and they are well known for the variety of top-notch musical instruments.
This product is made to have a size of 10 x 10 x 20 inches and it comes with a 9-pound weight. The design is of solid Mahogany which allows for this product's best acoustic properties.
You can tune this drum to your choice with the nylon rope feature. This Djembe is versatile for any musical situation. The ease of play makes it suitable for beginners. Finally, it is splashed with a two-year warranty.
4. African Hand-carved Djembe Drum from Ivory Coast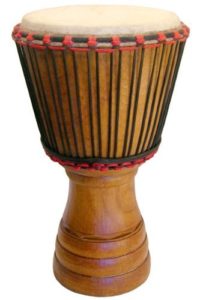 This product offers impressive sound qualities and it is designed to look simple and decent for any player.
For a fascinating playing experience, this is the best choice Djembe drum. This product is affordable and yet produces a beautiful sound.
The size is standard as it comes in 13 x 13 x 12 inches and it weighs just about 15.7 pounds. Additionally, it is made with Iroko wood which adds to its quality level. This is suitable for beginners as it is designed with their needs in mind.
Finally, this Africa imported Djembe drum has its edges smoothly carved to give great sound quality.
It comes with a 100% money-back guarantee.
5. Deep Carved Djembe Bongo Drum

This Djembe drum is one of the most skilfully carved on the market, it is also strong and beautifully made.
The crafting of this product is flawless and it promises great performance.
The ease of play and the sound quality makes it super great for its cheap price.
In terms of size it is designed to come in 20 x 20 x 10 inches and it is lightweight as it comes in 8 pounds.
The premium goat skin head makes it one of the best on this list.
Finally, the shell is made of dried Kiln and it has the protection of 20 coats of teak oil which helps to stop the playing surface from getting damaged.
Frequently Asked Questions About Djembe Drums
How many tones can the djembe drum produce?
The djembe drum is traditionally and typically made to give three sounds and they are bass, slap and tone. However, you can create other tones from the combination of these three tones but the slap, bass and tone are the mother sounds of the djembe drum.
The tone sound gives a soft yet full sound and it can be played just by playing the drum sides with your relaxed but held together fingers.
The slap is the loudest and sharpest of all the tones and you can produce this by hitting the edge of the drum head with the centre of your palm while you also quickly retract the hand. This is considered the most difficult of all the notes to perform on the djembe drum.
Why is goat skin considered the best drum head?
The goatskin is considered to be the best drum head for djembe drums because it is believed in the African community that the goatskin is tougher and lasts longer. It is also believed that the goatskin produces high-end notes or sounds. The quality of the goatskin drum head is also well appreciated in the African quality.
Why the djembe drum is also called the "Devil Drum"
The Djembe drum is also referred to as the "devil drum" because of the traditionally made hollow-out-trees also known as Dimba that the drum is made from. The Dimba is also called the "Devil wood" in the African community.
How do you tune the Djembe drum for best sound?
To make your Djembe drum sound good, you have to tune the skin in a fairly tight manner and more importantly, the tightness must be even on all sides of the drum. In any case where the skin is tighter on one side than the other, it will produce unwanted overtones and this will halt the sound crispness.
To achieve the perfect tuning of the drum, you will need to use a double-hoop system in which a lower hoop, lapped with the drum's goat skin head, it is then pulled down over the rim of the drum by an upper hoop. It is then interlocked through a long vertically-winding rope with a smaller hoop beneath the bowl of the drum.
Once the vertical rope has been pulled to be tight evenly all across the drum, it is then tied off. You can then continue to use the drum by weaving horizontally between the ropes to enhance the tension further. The horizontal rope is then weaved behind and also to the front of the vertical ropes. This is done to achieve an 'S' shape to enhance the tension till the desired pitch is gotten.
Over time, the tension can wear out so it is important that the drummers regularly to continue to increase the tension of the rope.
Conclusion
Beginners are faced with the difficult task of finding the best djembe drums for beginners, it is important that they get help from professionals to help them make the right decisions. This can be done by asking questions and reading the appropriate review articles to steer them in the direction of getting the best djembe for beginners. However, we have come up with guidelines that will make your shopping easy as a beginner.  
We hope that you as a beginner, having gone through the above product review, that will no longer have any problem when you want to choose the best Djembe for beginners.
Djembe Drum Carved Bongo African inspired music also a unique gifting idea. Carver Abstract Elephant...
[WHAT YOU GET] - One Djembe Drum, 8" Height Elephant Design [HAND CARVED] using a chisel - The carving style varies for each drum which is the...
[AFRICAN INSPIRED GENUINE HUMAN TOUCH] Our Djembe drums are carved from solid Suwar Raintree wood by master artisans. Cattle hide is selected so it...
[MUSIC AND DÉCOR LOVERS] Designed for music and awesome for home Decor lovers. The design on the drum also leads to unique décor option - use it to...
A perfact awesome gifting opportunity - Music is the universal language of mankind.
Djembe Drum, AKLOT African Drum Hand-Carved 8 inches Mahogany Goatskin Drumhead for Adults Starter...
GENUINE GOATSKIN DRUMHEAD: The djembe drum with a genuine goatskin drum head, the thinner skins have a sharper sound with fewer overtones in the slaps...
EXQUISITE HANDCRAFTED: Our bongo congo drum carved from one solid piece of mahogany by skilled artisan, features in high hardness and density. We...
STANDARD SIZE: The hand drum measures 8''x15.7''overall, is popular among grade, middle schools and new beginners because of its versatility and...
HAND-CARVED DESIGN: The base section of djembe drum with hand-carved flying elephant pattern and other tradditonal element, a symbol of luck and best...
5 STAR POST-SALE: Aklot African drum offers 2 years satisfaction and quality warranty, please feel free to contact us for a solution if you have any...
Djembe Drum Hand Painted Multicolored Dot Aborigine With Unique Random Patterns Bongo African...
[WHAT YOU GET] - One Djembe Drum, 6 inches Tall x 4.0 Inches Top, Abstract Design NOVELTY DECORATIVE DISPLAY ONLY NOT performance quality [GENUINE...
[AFRICAN INSPIRED] Our Djembe Drums Are Made From Solid Suwar Raintree Wood By Master Artisans. Cattle Hide Is Selected So It Gives A Sharp Sound. It...
[MUSIC AND DÉCOR LOVERS] Designed For Music And Awsome For Home Decor Lovers. The Design On The Drum Also Leads To Unique Décor Option - Use It To...
[A PERFACT GIFT] Perfact Awesome Gifting Opportunity - Music Is The Universal Language Of Mankind.
[AMAZING PROCESS] In A Painstaking Process, This Design Is Fashioned By Using A Handmade Dropper That Dispenses One Drop Of Paint At A Time To Create...